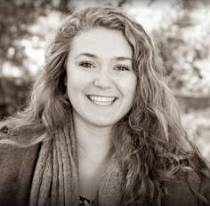 The American West Center awarded Hannah Smay, Environmental Humanities master's student, one of the two Floyd O'Neil Fellowships for 2018-19. This fellowship, in honor of the late professor Floyd A. O'Neil, is awarded to a student doing research in the American West. Ms. Smay's research focuses on "The Seismic West." The fellowship provides $2000 to Ms. Smay to use in her study of earthquakes in the West. She was selected for this opportunity using the following criteria: scholarly potential of the applicant herself, scholarly significance of the project, clear research approach and plan, knowledge of source materials related to the proposal, and the project's focus on the American West.
Ms. Smay's work seeks to reimagine the Anthropocene to include the increased risk of seismic disasters caused by precarious placements of cities and facilities in the seismically active West. Her project draws on traditional and scientific knowledge of earthquakes and looks at historical explainations of earthquake-related catastrophe. With her undergraduate roots in Portland, Oregon where "the big one" could potentially wipe out the Pacific Northwest plus her current enrollment in University of Utah which like much of Salt Lake City sits on a fault line, the potential for earthquake disaster is never far from Ms. Smay's mind. Because of where she lives and studies, her ambition and curiosity, she is exceptionally passionate about the work she is doing.
As a Floyd O'Neil Fellow, Ms. Smay can seek guidance and additional research support from the American West Center. In recognition of this support, she will present her research findings at the American West Center in Spring '19.