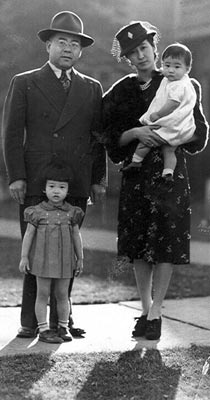 The American West Center is pleased to announce its new partnership with YourStory: Record and Remember. YourStory initially grew out of a course taught by Professor Meg Brady of the Department of English and the Ethnic Studies Program at the University of Utah. As the 2003-2004 University Professor, Brady developed a new course, Folklore Genres: "The Life Story," which trains students in interviewing strategies and the narrative genres of memoir and life history. The course prepares students to carry out the important work of life story preservation and creates a vital link between the students' university experiences and their service to the larger community.
Students in this course have collected the life stories of individuals at the Multi-Ethnic Senior High-rise, the Indian Walk-In Center and patients at Care Source Hospice in Salt Lake City. Students use the transcribed interviews to create life stories that are then bound in book form and with the accompanying CDs of the interviews themselves presented to the narrators and their families; they are also archived in the University of Utah's Marriott Library's Special Collections.
Out of this class experience has grown the YourStory program. After completing the initial course, it was simply impossible for Brady or her students to stop recording life stories; the experience had changed their lives forever. Devoted to the recording and preservation of the life stories of all Utahns, the YourStory program has a recording studio in the Chase Home inside the Museum of Utah Folk Art in Liberty Park, where a trained facilitator guides individuals in telling their stories and takes care of all the technical aspects of making a recording. With permission, these narratives are also archived at the Marriott Library, where family members can access them for generations to come.
Since opening in January of 2005, we have recorded well over 500 life stories. In August of 2005 we added a second location at the Huntsman Cancer Institute. Funded by a generous grant from HCI, YourStory offers the same services in a quiet living room setting for cancer patients and their families. In addition, our facilitators also record at the Huntsman Cancer Hospital and in the Bone Marrow Transplant unit at the University Hospital, as well as traveling to the homes of cancer patients who are homebound. We have also trained hospice volunteers in several hospice organizations around the Salt Lake Valley to record life stories of their patients; we then assist them in making these recordings available to the patients' families. We are now in the process of opening another location in collaboration with the Ogden Union Station museum.
In August of 2007 YourStory joined forces with the American West Center, which has a long and distinguished history of recording oral histories of hundreds of Utahns over the last forty years. For more information, visit the YourStory website.